of Israel Defense Forces It carried out airstrikes on tunnels and weapons manufacturing sites in the Gaza Strip early Friday, hours after militants fired rockets from Lebanon into northern Israel.
Palestinian militants fired rockets from the Gaza Strip on Friday morning, although they were intercepted by Israeli air defenses.
The latest volley comes as tensions rise in the region, where the Jewish Passover began on Wednesday and the Muslim holy month of Ramadan continues.
IDF spokesman Lt. Col. Richard Hecht said at a news briefing that Israel believes the Palestinian militants started it. 34 rockets from South Lebanon Earlier in the day. Of these, five fell on Israeli territory, 25 were intercepted by air defenses, and four others had unclear landing sites.
"This is a Palestinian-centric incident," Lt. Hecht said, adding that Israel believes the Iran-backed Hezbollah, a militant group that controls much of southern Lebanon, was aware of the attack.
Israel's Netanyahu agrees to halt judicial reform as protests continue
The rocket came After the Israeli police He stormed the Al-Aqsa Mosque in Jerusalem's Old City twice on Wednesday. Muslims flock to the mosque at the base of the Jewish Temple Mount during the holy month of Ramadan.
Many Muslim visitors tried to spend the night at the mosque, an invasion condemned by Muslims around the world.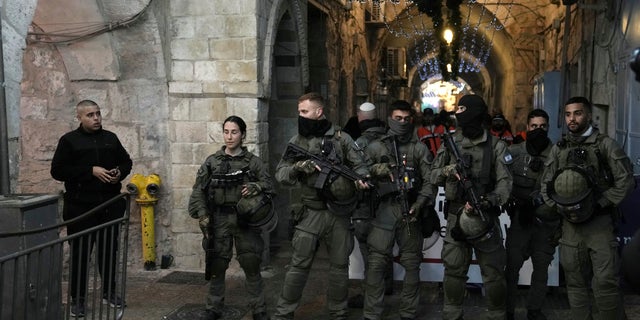 Israeli Prime Minister Benjamin Netanyahu He assembled his cabinet on Thursday. Israeli officials "have no intention of changing the situation on the Temple Mount," the office tweeted.
The Prime Minister's Office tweeted: "We are asking to calm down the situation, where we will take strong action against extremists who resort to violence."
Following the killing of the Israeli brothers, Israel was heavily attacked and called in army battalions.
An 11-day war broke out in Gaza last year between Israel and Hamas after similar tensions during Ramadan and Passover.
Click here to access the FOX NEWS app
"The citizens of Israel stand together and united in support of the IDF," Netanyahu said of the rockets fired from Lebanon and Gaza this week.
Netanyahu tweeted: "Israel's response today and beyond will exact a heavy price from our enemies."
The Associated Press contributed to this report.